FireFlow is a Freeware, EPANET based tool, which will calculate the available flow at network junctions while a minimal pressure is kept at demand junctions. FireFlow can run in a "Steady State" mode or perform an "Extended Period Simulation" (EPS). Using the EPS mode you can find how long can a specified flow be delivered? Or, what is the maximal flow that can be delivered for a specified period?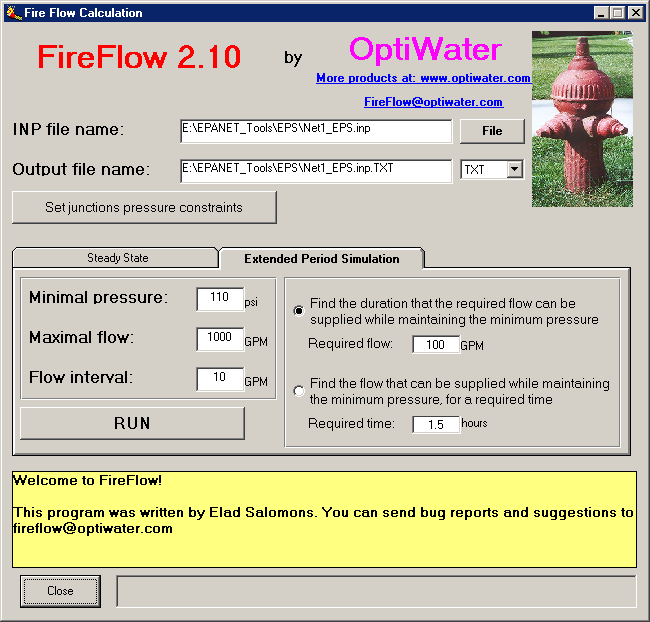 How to use FireFlow
Build the network with EPANET and export it to an INP file by using the "File-> Export-> Network" menu.

Run the FireFlow program.

Select the INP file by clicking the "File" button.

Select the junctions that have no pressure constrains or a special one.

Set default the minimal pressure by entering a value in the "Minimal pressure" text box.

Set the maximal flow to be checked by entering a value in the "maximal flow" text box.

Set the flow interval by entering a value in the "Flow interval" text box.

Select "Steady state" or the "EPS" mode.

For "EPS" mode select the run type and specified parameter

Click the "Run" button and wait until a message box appears. It will show the path and name of the result file.

All values should be entered in the same units that were used in EPANET.

Use each INP file in a different directory
On some system admin permissions are needed to run the program. This is done by right-clicking the program shortcut and selecting the "Run as administrator" options: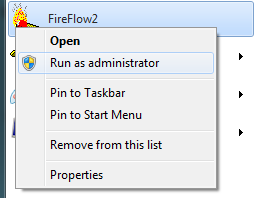 Downloads
FireFlow installation file (2.51MB).
The installation file includes 2 samples that are located in the installation path.
A limited user manual is available (Acrobat PDF file ~153KB).
For his great ideas, support, testing and debugging, I would like to thank Kirby J. McRae, P.Eng., of UMA Engineering Ltd., Winnipeg, Manitoba, Canada.