What is optiUnits
optiUnits (beta) is a freeware tool that will allow the user to convert an EPANet model from one set of units to a different one.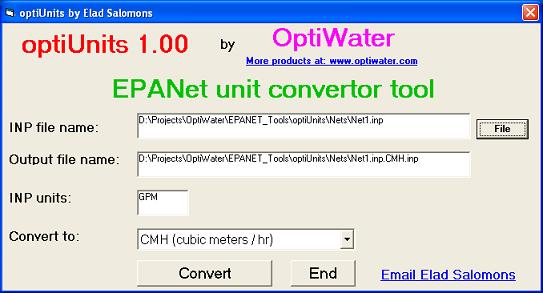 How to use optiUnits


Export your model from EPANet to an INP file.
Run optiUnits.
Click the File button and select the INP file.
From the drop-down box, select the unit set that you want to convert to.
Click the Convert button.
You are done!
Program limitations
At this time, the [RULES] section is the only section that is not converted.
Help and support
Help and support may be obtained via the Water Simulation forum. Please report any problem, bug or comment. The autor, Elad Salomons may be contacted via email: selad at optiwater dot com.
Download

optiUnits.zip (~15KB).
If you face any problem running the program try to use the full setup program which includes the runtime dlls: optiUnits_Setup.zip (~1,440KB).