The evaluation copy of optiDesigner can be used for only 30 days. After that, if you would like to keep using optiDesigner, you should register the software.

The registration fee is only 350$ US.
How can this product sell for this low price when all the software in the water and waste water industry sells for thousands of dollars?
There are few reasons:

OptiWater is almost a one men show with no big overhead.
Minimal effort was put in the graphical interface of optiDesigner. Most efforts were put into the algorithms.
The use of a free but excellent hydraulic solver - EPANET.
All of the development, programming, web designs (its shows, doesn't it?) and marketing are done in house.
Important:
Before you begin the registration process run the registration utility that is located in the optiDesigner program group (the "REGISTER.EXE" file is located in the same directory you installed optiDesigner).
The utility will provide you a code called Code A. You will be asked to provide this code during the registration process.
Note: the code is case sensitive!!!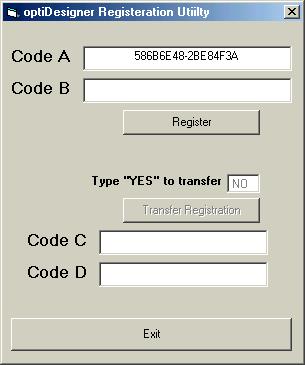 After your registration will be approved you will receive a confirmation code Codes B which you will have to enter in the registration utility and click the "Register" button.
Please allow two business days for code delivery.

!!! To begin the registration process click here !!!